New Teeth That No Longer Slip
Of the 35 million people in America who have no teeth, 90% of them wear dentures. But as much of a difference that dentures can make, they still have their drawbacks. Not only can they slip out of place, but they might also not fit as well as they used to once your jaw changes shape. For these reasons, Dr. Rasmussen is happy to offer a stronger, more stable alternative: implant-retained dentures. If you're looking for an upgrade from normal dentures, call us today and set up a consultation.
Why Choose Periodontics and Implant Dentistry for Implant Dentures?
Experienced Board-Certified Periodontist
Dentures with Improved Strength and Stability
The Latest in State-of-the-Art Dental Technology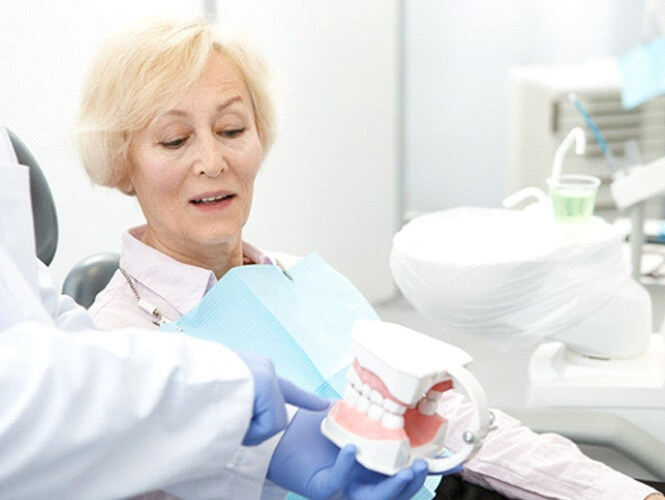 What are Implant Dentures?
A dental implant is essentially a prosthetic tooth root. It's not the part that people see when you smile; rather, it's the post inserted into the jawbone that supports the restorations that will serve as your new teeth. In the case of implant dentures, a specific number of dental implants are used to anchor an entire row of false teeth in place; the number of posts might vary, but our goal is to use the absolute minimum necessary. There are two major types of implant dentures:
Fixed/Permanent Implant Dentures
Around 4 to 6 implant posts are placed throughout the jawbone to support the denture. Unliked traditional dentures, a fixed implant denture stays in the mouth 24/7. This helps your new teeth feel just like your old teeth. You'll be able to brush normally, eat whatever you want, and even sleep with your dentures without worrying.
Removable Implant Dentures
A removable implant denture is sometimes called a "Snap-On denture." The implants themselves stay in the mouth, but the dentures can be snapped on and off thanks to clips or ball sockets. The trade-off of this type of denture is that you need to take it out of your mouth in order to clean it.
The Implant Denture Procedure
Periodontists like Dr. Rasmussen can perform each step of the dental implant process entirely in-house. It all begins with a consultation where we check your oral and overall health. If we find that you suffer from bone loss, gum disease, or any other condition that could get in the way of successful implant treatment. Once your mouth is ready, Dr. Rasmussen will proceed with the implant surgery. After the posts are placed in the jaw, they're allowed a few months to fuse with the jaw. The next step is to attach an abutment to each individual post. Finally, after the mouth has completely healed and the posts are found to be stable enough, the final restoration will be designed and placed.
Am I a Candidate for Implant Dentures?
This will be the first questions we'll have to answer at your initial consultation. We can move forward with the implant process if:
You don't have any health issues that would stop you from having surgery performed.
You don't have cavities or gum disease.
You have enough jawbone density for your desired type of implant denture.
Preliminary procedures like bone grafts may be scheduled as needed; thanks to these treatments, even people who normally wouldn't be candidates can get implants.

Benefits of Combining Dentures & Dental Implants
Implanted teeth are joined directly with the jawbone, just like real teeth. This lets you avoid the slippage and breakage associated with traditional dentures.
No unnatural-looking attachments are required to keep the teeth in place. The implants will be hidden under the gums, and the dentures themselves will be highly lifelike.
The implants will stimulate the jaw and help it grow new bone tissue when needed. This keeps the mouth strong and helps maintain support for your facial muscles.
Dental implants can last 30 decades and sometimes even the rest of your life.
Implant Dentures FAQs
From the implant dentures procedure to the benefits of this tooth-replacement solution, we've covered a lot of information on this page. Of course, if you still have questions on your mind, we'd love to help you find the answers! If you'd like to talk to our Tallahassee implant dentist and periodontist, Dr. Rasmussen, then we encourage you to call our office or schedule a consultation. If you'd like to continue your research online, then simply read on.
What Is the Difference Between Implant Dentures and a Traditional Denture?
One of the core differences between implant dentures and traditional dentures is where they get their strength from. While traditional dentures rest against your gums, implant dentures have posts that are surgically inserted directly into your jawbone. As a result, the latter provides patients with a significantly stronger bite. Of course, there are also differences in longevity, treatment timelines, and how you care for them. Don't worry – we will review all of this information with you during your consultation so you can make an informed decision on what's best for you.
How Long Do Implant Dentures Last?
After investing your time and money into implant dentures, you naturally want them to last. Good news: with proper care, implant dentures can last for several decades! So while they may come with a higher upfront cost, they very well could be the most cost-effective option in the long run.
How Do You Care for Implant Dentures?
Caring for your implant denture will depend on a few important factors, including if yours is fixed or removable. If you have a removable implant denture, then you will need to take it out of your mouth to clean it. If you have a fixed implant denture, then you will continue to brush as usual.
There are a few best practices that apply to both, however. Getting a dental checkup every six months, refraining from unhealthy dental habits (like smoking), and exercising caution with extremely hard, sticky, and chewy foods are great places to start. It's also a good idea to avoid using your teeth as tools or chewing on ice, pen caps, and the like.
Do Implant Dentures Look Real?
Back in the day, dentures were often bulky and noticeable. So, it's not surprising that many patients today are worried that theirs will be obvious and obtrusive. Thanks to modern technology and advancements in the dental field, that's not the case! Each implant denture is custom-made, ensuring the shape, size, and shade of your teeth look and function naturally. Since dental implants are inserted into your jawbone, they also won't slip or move when you chew, laugh, or talk. Simply put, implant dentures are extremely lifelike in every way!
How Long Does the Implant Denture Process Take?
In short, the length of your treatment timeline depends entirely on your specific dental needs. For example, if you have an existing oral health issue, like gum disease, then that will need to be treated first and foremost. The good news is that the entire process can typically be completed over the course of a few months. So, you won't have to wait years to get the healthy, strong, and functional smile you've been missing.
More to Explore