Replace an Entire Row of Teeth in 1 Appointment
If you have several missing teeth or even an entire row that is gone, then your oral function is probably severely compromised, and you want to have it fixed as quickly as possible. Traditional implant procedures usually require months to be completed, but there are exceptions: All-on-4 dental implants in Tallhassee, FL. With this treatment, Dr. Rasmussen can restore an entire row of teeth in a single appointment, helping a patient reclaim their health, bite, and confidence in a matter of hours. Want to learn more about All-On-4? If so, give us a call today.
Why Choose Periodontics & Implant Dentistry of Tallahassee for All-On-4 & Teeth-in-a-Day?
Treatment Provided by a Board-Certified Periodontist
Helps Patients Avoid the Need for a Bone Graft
Customer Service That Ensures You Feel Welcome & Comfortable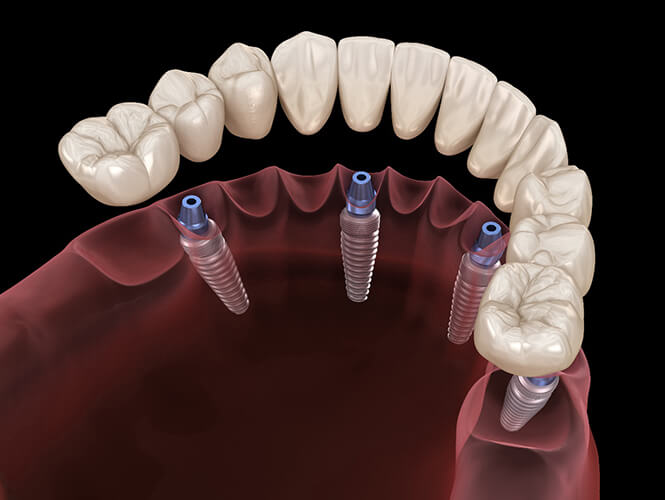 How Do All-On-4 Dental Implants Work?
On the surface, All-On-4 implants might sound too good to be true, but Dr. Rasmussen has already used this procedure to help countless patients quickly reverse years of tooth loss. Just four special dental implants are placed along the jaw at specific locations so they can provide the most support possible for a new denture. Typically, two are located towards the front of the bone with another two towards the back that are slightly tilted. This is where the jawbone is naturally thicker, maximizing a patient's existing bone density. Once the implants have been positioned within the bone, they are immediately attached to a full denture, instantly giving a patient the new teeth they desire.
Am I A Candidate For All-On-4 Dental Implants?
All-On-4 dental implants are usually recommended for patients who are missing most if not all of their teeth along their upper or lower arch. Most people in this situation have experienced quite a bit of bone loss as well, so much so that traditional dental implants are not a viable option. All-On-4 implants are specially designed to help patients in this situation. If you have extensive tooth loss and have been told you're not qualified to get dental implants in the past, then this procedure was made for you.
What Are the Benefits of All-On-4 Dental Implants?
Speed: In a single appointment, a patient can completely renew their smile and vastly improve their ability to speak and eat comfortably.
Cost: In most cases, the cost of getting All-On-4 dental implants is less compared to a traditional implant denture, which often requires six to eight implants to stay in place.
No Bone Graft: As we touched on above, All-On-4 dental implants are meant to work with a patient's existing jawbone even if it has shrunk, meaning it helps many avoid the need for a bone graft procedure. This helps lower the overall cost and shortens the time a patient needs to replace their teeth.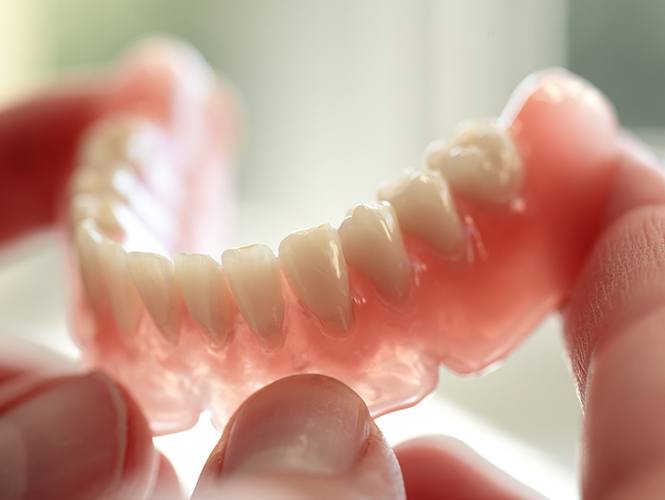 All-On-4 vs. Traditional Dental Implants
The posts used for All-On-4 tend to be bigger compared to traditional implants, and this is why such a small number of them can be used to secure a full denture. Traditional implants are usually placed in the specific locations where teeth have gone missing, but with All-On-4, they are spaced across the entire jawbone. All-On-4 implants are designed to maximize a patient's jawbone density, which is why they are exclusively located in the thickest part of the bone.
All-on-4 FAQs
All-on-4 is a different kind of dental implant treatment, so it's not unusual for patients to have plenty of questions about how it works. We encourage you to reach out to us right away if there's anything you'd like to know about All-on-4 before you decide whether you want to move forward with it. To help make things a little easier, we've answered some of the most frequently asked All-on-4 questions below.
Will All-on-4 Look Like My Natural Teeth?
Yes, dentures supported by All-on-4 implants look and feel very natural. The implants themselves won't be visible because they'll be covered by your dentures and your gums. Your new teeth will be made out of materials that closely resemble natural tooth enamel. Your restoration will be customized with your unique smile in mind so that the final results are as lifelike as possible.
Additionally, since the implants will keep your teeth firmly in place, there's no risk of your dentures slipping or moving at awkward times. This can help you feel much more confident in your smile and your overall appearance when interacting with others.
What Can I Eat After All-on-4?
With traditional implants, you would normally be limited to only eating soft and liquid foods for a while after the surgery. However, that's not necessarily an issue with All-on-4. Because you can often receive your new teeth on the same day that All-on-4 dental implants are placed, you may be able to eat solid foods right away following the procedure. That said, you will need to avoid hard, brittle, or chewy foods for a while. It will typically take around 6 to 10 weeks for you to be able to return to a normal diet.
Is the All-on-4 Procedure Painful?
There's little to no discomfort during the surgery itself because a local anesthetic is used to numb the mouth beforehand. Also, if any kind of sedation is used, it will further reduce your body's ability to notice pain. And of course, our team will take whatever steps are needed during the procedure to help you stay comfortable.
Once the treatment is complete and your mouth is no longer numb, you're likely to experience some mild soreness and swelling. It should only take a few days for these side effects to subside, but we do recommend that you call us right away if there's any severe pain.
What is the Success Rate of the All-on-4 Procedure?
The success rate of All-on-4 is as high as 98% for both the upper and lower jaw, meaning it's a very reliable choice for anyone that's eligible for the procedure. Of course, even with an extremely high success rate, you still have to be aware of the possibility of dental implant failure. Make sure that you're practicing excellent oral hygiene after receiving your new teeth; daily brushing and flossing are essential for preventing gum disease that could lead to complications with your dental implant posts.
More to Explore