More Beautiful Gums for a More Beautiful Smile
Dr. Rasmussen and our team believe that healthy gums are one of the keys to a healthy life. However, we also recognize the value of aesthetics. You deserve to have a smile that you are proud to show off! Since your gum tissue is the frame for your teeth, it must look good if you want your smile to reach its full potential. If your gums don't quite look like you wished they did, Dr. Rasmussen may be able to help via periodontal plastic surgery. On this page, we'll discuss some of the aesthetic issues that he is able to address and the procedures that he may use to do so.
Why Choose Periodontics & Implant Dentistry of Tallahassee for Periodontal Plastic Surgery?
Highly Trained, Detail-Oriented Periodontist
Advanced Technology for Outstanding Results
Comfortable Treatment
Gummy Smile or Uneven Gumline
Excess gum tissue that covers too much of the teeth can cause the teeth to appear short and stubby. This "gummy smile" issue is quite common, and fortunately, it is relatively easy to fix via a gum recontouring surgery. Using a soft tissue laser, Dr. Rasmussen can trim away excess gum tissue, thereby making your teeth look longer and creating an even gumline. The laser contributes to a comfortable procedure and a quick recovery time. The results it produces are permanent. Gum recontouring is suitable for most patients, whether they have extra gum tissue on one tooth, a few teeth, or most of their teeth.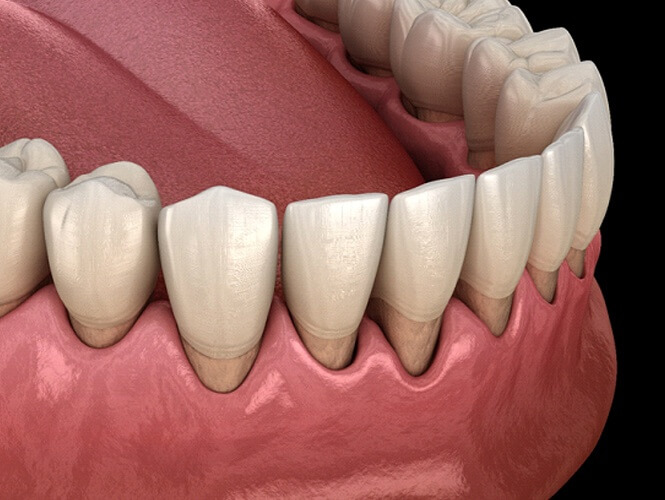 Long Teeth/Exposed Roots
Genetics, age, past gum disease, and other factors may have caused your gums to recede. Not only can this make your teeth look unusually long, but it also exposes their sensitive roots. It may even be uncomfortable for you to eat hot or cold foods. Gum graft surgery is the most common way to address exposed roots. Using tissue from another part of your mouth (or possibly another source), Dr. Rasmussen can cover the exposed tooth roots. After the graft fully integrates with the surrounding tissue, you will be able to enjoy a more attractive, healthier, and less painful smile.
Indentations in the Gums and Jawbone
If you have lost one of your natural teeth, you might have noticed that there is an indentation in your gums where the tooth used to be. This happens because the bone that once supported the tooth begins to shrink back, causing it to become smaller. As a result, any replacement tooth might look unusually long. To address this, a surgery known as ridge augmentation may be necessary. Ridge augmentation may involve both bone grafting and soft tissue grafting.
Learn More About Periodontal Plastic Surgery
Would you like to improve the appearance of your gums? Dr. Rasmussen and our team are ready to help. Get in touch with us today to learn more about your surgical options or to schedule a personalized consultation. You may be closer to your dream smile than you think!